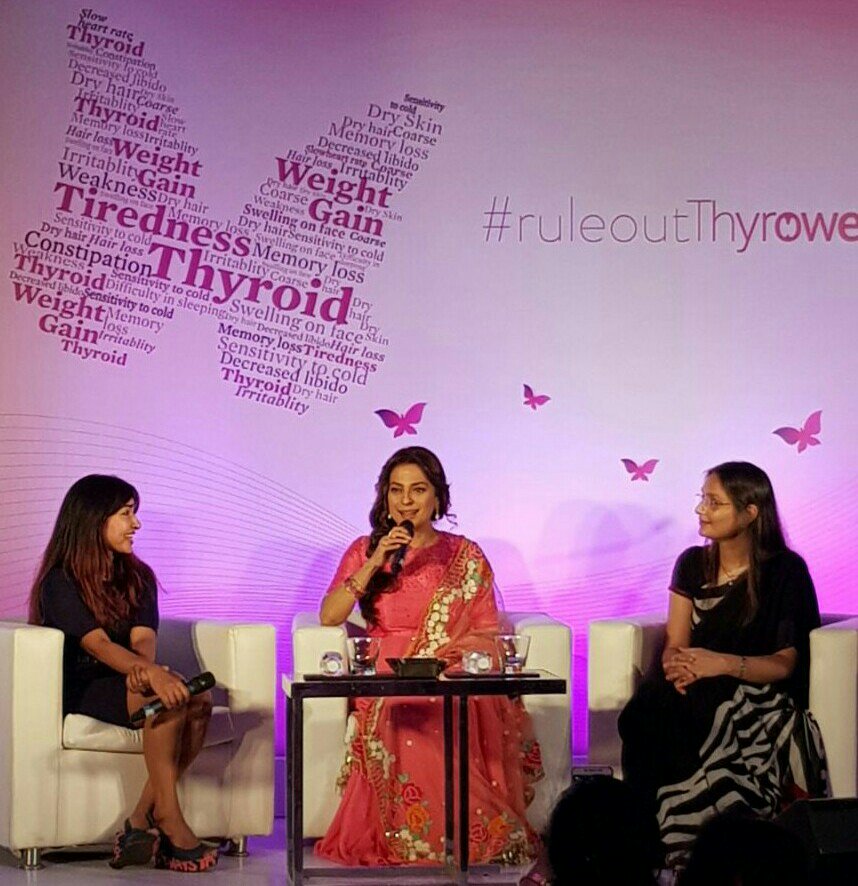 Juhi Chawla at an event talking about Thyroid
#RuleOutThyroweight I thought I was lazy, till I found out I had thyroid: I lost 30 kgs and won against thyroid
As the first month of the year comes to an end, it's also a new start, a time when we take so many resolutions but barely manage to stick to any.
This year, unlike a lot of my past years, I did not have any resolution. In fact, last year too I didn't make any resolution, but told myself I would see how best I could stay fit and healthy. And let's say I managed it.
Health and fitness and all the things you hear about wellness are actually related, and it took me a long time to realize this. But once I did, I realized I was at my healthiest and my fittest best.
I never realized I could be at risk of thyroid. Why would I be? I was young, I had no known health issue, so why would I suddenly get a thyroid disorder?
But unfortunately, 1 in every 10 adults has thyroid problems, and so did I.
That's why, when I found out about this event that would tackle the issues of weight gain and tiredness (also known as Thyroweight), I knew I wanted to be there.
The event, that was held at a well-known hotel in Mumbai, had Juhi Chawla attend the guest along with experts from the medical field. To the room full of bloggers, Juhi shared about how she has seen people close to her suffer from the disease. Her husband Jay Mehta as well as her father-in-law have both been affected with thyroid disorder, but are leading active and healthy lives because they have made sure to take care of it. Juhi's hair stylist too was suffering from hypothyroidism, but ever since she got regular with her medication, she is back to leading a healthy and happy life.
1 in 10 Indians suffer from a thyroid problem,
and in most cases are not even aware of it.
I won over thyroid disorder
I was diagnosed with hypothyroidism after my first pregnancy, and my initial signs matched a lot of the signs I have listed above. Also, I was gaining weight fast, and my post-pregnancy weight was not going down, despite my best efforts.
I did take medication, and over a period of about two years, I was strict to follow all the medicines as per medical advice. My thyroid problems did come under control, and I was given a medical go-ahead to plan my second baby, as my thyroid issue was well taken care of by then.
However, I did gain about 30 kgs through my second pregnancy, as my thyroid symptoms came back. After the baby, I got on medication again and started changing my lifestyle. Today, I am 50 kgs from the 80 kgs I had become, and I am at my fittest and healthiest best at 37 years and after 2 babies.
If I have been able to do it, anyone can, and you can, and trust me, anyone can beat thyroid, all you need to do is get yourself checked and follow your medication plan.
Before you panic, here are some myths and facts about thyroid issues
If you are obese and overweight due to thyroid, you cannot lose the weight.
Fact -
Thyroid will not cause obesity, but can cause an excess weight gain of up to 10 lbs. Also, excessive weight gain could be due to a lot of other factors. If taken care of, this is easily manageable.
Once you get thyroid problems, it can never be cured
Fact -
While your thyroid issue may not go away completely, the fact is that it can easily be managed and kept under control. Also, by taking your medication regularly and the way you have been advised by your doctor, you can actually lead a healthy life.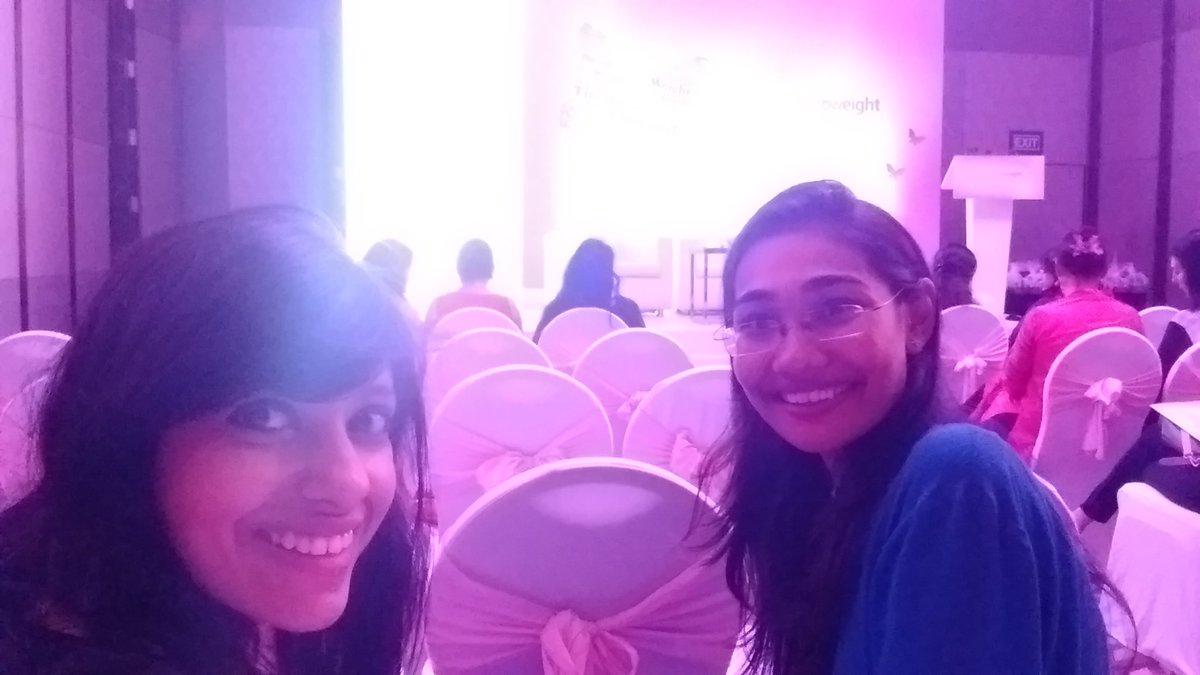 Me and a colleague at the event
When you have thyroid problems, you will somehow know it
Fact -
It can be difficult to immediately spot if you have a thyroid issue or not, as the symptoms can easily be confused with regular everyday symptoms. If you notice a number of the symptoms (check list below) and it happens very often, it could be due to thyroid imbalance.
Taking thyroid medication will get you hooked on for life and can cause side effects
Fact -
There has been a vast change in the way thyroid medications work, and in fact, just a single gentle dose a day could keep you absolutely healthy. These medications can help manage various symptoms that are associated with thyroid disorder and will not cause any side effect.
The big turnout at the event
The biggest problem in understanding whether or not you are having a thyroid issue is that most of the symptoms can often be confused with regular lifestyle changes. However, if you often spot any of these and feel this is quite frequent, do check with your doctor
·
sudden and unexplained weight gain or loss without trying to do so
·
always feeling tired even when you are well rested or have slept enough
(The first two are most important and common symptoms, also known as Thyroweight)
·
extreme behaviour changes, such as being too happy and then too depressed
·
irregular periods or missing periods
·
swelling on the face or legs
·
constipation or diarrhoea
·
sleep disturbances - sleep too much or can't sleep
·
always feel too hot or too cold and cannot tolerate hot or cold temperatures (depends on what form of thyroid disorder you have)
·
increase in cholesterol levels
When taken individually, these symptoms may not necessarily point to a thyroid problem, but if you are experiencing more than one of these symptoms and notice it often, it is important to speak with your doctor about the same.
So what increases your risk?
·
a family history of someone who has suffered from thyroid imbalance
·
women are more prone to have a thyroid disease than men (8 out of 10 women are diagnosed with a thyroid problem)
·
hormonal imbalance, especially if you are also on some form of hormonal therapy
·
both men and women over the age of 50 are at an increased risk
·
if you had thyroid issues earlier that resolved themselves or with very less medical intervention
·
regularly eating vegetables such as broccoli, radish, kale, cauliflower (basically goitrogenic foods)
·
regularly eating large amounts of soy products
The most common test that your doctor will suggest to detect a thyroid problem is the TSH (Thyroid Function Test) test.
In the initial stage, it is best to get the test done every 6 to 8 weeks. Gradually, your doctor may advise you to take it thrice, twice or even once a year, as you get better.
Honestly, the medicine has no side effects, and all it does is to regulate your hormones in such a way that they will stay within the required range. Do speak to your doctor, so that you can easily manage your health, and also be healthy, happy, fit and active! :)
* Disclaimer: I attended a discussion on thyroid awareness facilitated by Abbott India Limited. Any opinion expressed in this blog is my personal opinion and not the opinion of Abbott India Limited. Abbott India Limited does not assume any liability for the content of the blog. The blog post is not meant to be a replacement for a doctor consultation, nor is it a medical recommendation or prescription of treatment for people having thyroid problems. Any reader of this blog suffering from thyroid problems should specifically consult his/her doctor for the same and follow the suggested course of treatment.'